OACBS Projects/Board
Everything is running smoothly thanks to the many little and large contributions by Board Members past and present. No updates at this time.
ACBS Updates and Listserv Nuggets
ACBS World Conference 16 – July 24-29, 2018, in Montreal, Quebec, Canada,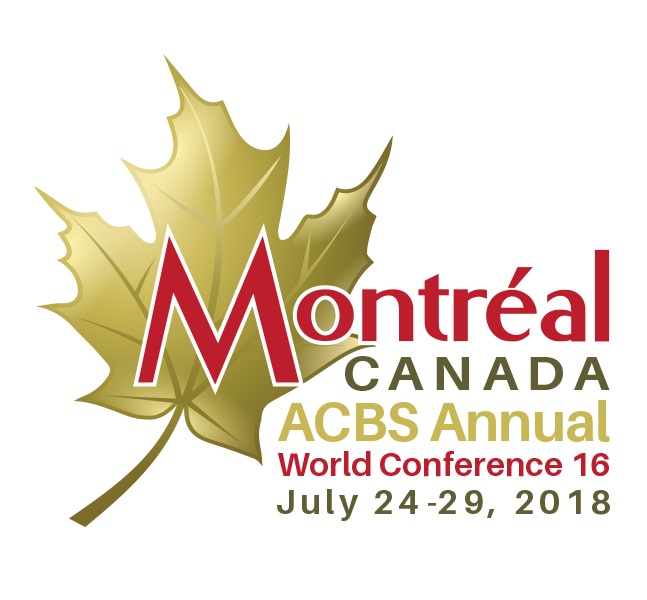 Click Here to register your interest and receive notifications when things like Call for Submissions, Registration, and the program are available.
A Beautiful Reminder
Nina Yamini asked the community for help tracking down a video shown during a Steve Hayes training back in 2015. Turns out it was called The ACT Therapist, produced by  Jenna Lejeune and Jason Luoma. And it's well worth watching (again). Or in the words of Lara Fielding, "thank you Nina for reminding us of this AWESOME video!"
MBCT and ACT – How Might They Differ?
The original post by Jill Corvelli: "Has anyone done a deep dive into evaluating MBCT?… I am trying to tease out how MBCT and ACT differ. I wonder at the theoretcial level how congruent the mindfulness piece is with the now expanded offering of CBT. I wonder if the MBCT claim to have more intensity in meditation than ACT plays out in reality. I would enjoy anyones thoughts as I try to sort this out."  Led to an interesting discussion, which touched on the additional question of whether stress reduction, as a treatment goal, is ACT-consistent.
Click here for the full thread.
2018 Diary (or Calendar to others) for Valued Action
Original post by Nic Hooper: "After running workshops last year a few of us in Bristol realised how easily people lose contact with their values and so started brainstorming cues that might remind people of their values. We came up with the idea of a diary, and have subsequently put one together."
As noted by multiple people, such as Rob Archer, "Superb idea Nic."
NB. Nic openly acknowledges he has financial investment in this product, as it is self-funded. He also shares he sees real value in its potential to help others. Judge for yourself!
Click here for the full thread.
A Primer on Self-As-Context: Observer Self or Pure Awareness?
Original post by Kip Williams: "I've been noticing two different discourses about self-as-context, and I'm starting to wonder whether they're compatible with each other. I thought I'd see what y'all think about it."
Led to a fascinating discussion and a brief (ish) primer on self-as-context, not to mention some philosophical references, and something about a haircut…
Click here for the full thread.
What is ACT?
Original post (and "bold move") by Rob Archer: "What is Acceptance and Commitment Therapy / Acceptance and Commitment Training?   In other words, what are its essential features?  How do we know when we are doing it?"
A "simple" question that led to a great discussion. Click here for the full thread.
Emotion Efficacy Therapy – An ACT Therapy, Something Different or Does it Matter?
What started as an introductory post to a new "brief universal therapy protocol" integrating ACT, CBT and exposure therapy developed by Aprila West and Matthew McKay, led to a lively discussion about brands, mechanisms, models of psychological flexibility and Steve Hayes and Stefan Hofmann's upcoming book on "Process-based CBT".
Click here for the full thread.
Upcoming Professional Training
The opportunities listed below may be of interest to OACBS members. Please note, these events are not necessarily endorsed by OACBS and the information is simply provided as a convenience to members. If you know of any CBS-related training events in our area that you'd like announced in the next newsletter, please e-mail that information to Member At Large, Tim Wright.
December 2017
Friday, December 1, 2017 & Saturday, December 2, 2017, 8.30 am – 4.30 pm.
This two-day workshop provides a thorough overview of the theory, principles, and techniques of Acceptance and Commitment Therapy. It is intended for those who are relatively new to ACT and for those who have done some reading on their own about ACT but who may not have had the opportunity to participate in more experiential learning, practice case conceptualization, and receive feedback while practicing using the ACT model. Read more 
Portland Psychotherapy Clinic, 3700 N Williams Ave, Portland, OR 97227
December 8, 2017, 8:30 am – 4:30 pm
Radically Open Dialectical Behavior Therapy (RO-DBT) is a new evidence-based therapy for people who are overcontrolled. RO-DBT emerged from 20 years of research into how to help people who suffer because of excessive overcontrol. The treatment pulls together experimental, longitudinal, and treatment outcome research in the form of this novel treatment. This introductory workshop for counselors and therapists will provide clinicians with the theoretical foundations underlying this form of DBT, as well as a few key skills to engage with clients.  Read more
Portland Psychotherapy Clinic, 3700 N Williams Ave, Portland, OR 97227
January, 2018
January 19, 2018, 8:30 am – 4:30 pm
Despite incredible advances in the science of psychological distress or well-being among gender and sexual minority (GSM) clients, changes in treatment have been lagging. Most resources express the need for an affirming and non-rejecting stance, but these do not fully meet the needs of therapists who wish to align their practice with the most current of data. This workshop will promote cutting-edge techniques that take advantage of research on minority stress and emotion regulation. The workshop will incorporate both theoretical and experiential work. Read more
Portland Psychotherapy Clinic, 3700 N Williams Ave, Portland, OR 97227
OACBS Member News
Learning ACT – Second Edition – Available December 1st.
As posted on the ACBS listserv, Kim Diebold asked about rumors of a new edition. Portland's very own Jason Luoma responded with the release date, and shared the following information to help folks determine if they want to purchase. It is about 30% new material, with extensive smaller changes based on updates and reader feedback. In addition, there is a complete rewrite of the self as context chapter and a new chapter on social context/culture/diversity and ACT.
In addition, there is "a free e-book, "The Learning ACT Resources Guide," which pulls together a whole range of resources on learning ACT that people might want to know about, including all the published ACT books I could find."
New OACBS Members
Welcome to our newest OACBS members. We look forward to your participation in our community!
Nancy Anderson
Rick Baumgartle
Pamela Braun
Adam Brotman
Kyle Chambers
Maria Cicio
Joanna Crowl
Eli Dapolonia
Bryce Doehne
Beth Eckerd
Chelsea Gilbert
Joel Gregor
Joshua Higinbotham
Michael Ianello
Angela Izmirian
Wendy Machalicek
Greg Macke
Debesh Mallik
Rosanne Marmor
Alyssa Nolde
Carolyn Peterson
Mathias Quackenbush
Gabriel Reed
Rodney Robbins
Carl Sallee
Aaron Truong
Rebecca Vestal
Tricha Weeks
Trond Willmann
Kyong Yi