OACBS Projects/Board
No updates at this time. We remain thankful to the many little and large contributions by Board Members past and present.
ACBS Updates and Listserv Nuggets
ACBS World Conference 16 – July 24-29, 2018, in Montreal, Quebec, Canada,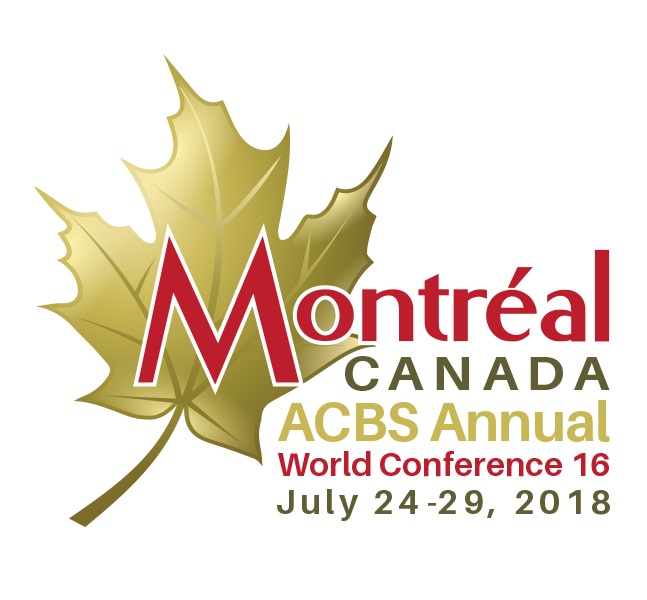 Click Here to register your interest and receive notifications when things like Call for Submissions, Registration, and the program are available.
Research in Clinical Practice Collaborative SIG
A new energy to promote collaboration between researchers and practitioners within the ACBS community started with this by Danielle Lamb:
"There was a discussion on the ACT for Professionals listserv in August about ways to link up ACT practitioners who are data rich (but time/research experience poor) with ACT researchers who are experience rich (but data poor)."
After a few weeks (and the discovery that such a SIG already existed but with little activity), the thread ended with this:
"We now have a new email list for those wanting to be involved in researcher-practitioner collaboration, housed under the existing Research in Practice Collaborative SIG.  You can join the list here. The SIG page is here. "
Susan David TED Talk – The Gift and Power of Emotional Courage
As recommended by multiple contributors. Click here for thread. 
Some New Year Clinical Gifts
A thread by Lou Lasprugato (upcoming ACT trainer in Portland)
"Attached are clinical worksheets, which are also available on my training page, that you are welcome to use.  Below is a brief description of each:
ABCs of Workability – clinical/training worksheet for examining functional analysis of behavior from an RFT/ACT perspective
ACT Vowels Assessment (AVA) – (non-validated) clinical instrument for assessing ACT processes/skills and treatment planning
Cycle of Suffering – worksheet for assessing conditional/cylical patterns of unworkable behavior (from pain to suffering) – can be used alone or along with Resilience
Cycle of Resilience – worksheet for identifying conditional/cyclical patterns of workable behavior (from pain to purpose) – can be used alone or along with Suffering
Flexible Action Plan – worksheet for hierarchical exploration of flexible action planning (life domain, values, actions)
Three Steps to Mindfulness – instructions on mindfulness from ACT perspective
Wheel of Fulfillment – worksheet for exploring valued life domains and corresponding fulfillment – a "spin" off of Wheel of Fortune and similar in scope to Bull's Eye and Compass worksheets, with different emphasis
Feedback (positive or critical) is always appreciated!
Happy New Year!"
A post by Maria Karekla asking for help to find an ACT for kids' manual led to a post by Steve Gordon offering his work, followed by many, many requests, and his posting of the manual at the end of the thread.
Upcoming Professional Training
The opportunities listed below may be of interest to OACBS members. Please note, these events are not necessarily endorsed by OACBS and the information is simply provided as a convenience to members. If you know of any CBS-related training events in our area that you'd like announced in the next newsletter, please e-mail that information to Member At Large, Tim Wright.
March 2018
Using the ACT Matrix with Trauma – Kevin Polk, PhD
March 23rd, 2018
The ACT Matrix is a highly collaborative diagram that profoundly changes how a clinician relates to a client's trauma memories. Rather than focusing on the content of the trauma, client and clinician focus on changing the pattern of having the trauma memory in daily life. Often, it is not necessary for the clinician to hear the trauma story at all. This greatly reduces the chances of a clinician becoming burned out due to witnessing hundreds of trauma stories over a career. Click here for further information and registration. Training offered by Portland Psychotherapy Clinic.
Location: Taborspace, Annex, 5441 SE Belmont St, Portland, OR 97215
April 2018
ACT I – Portland with Lou Lasprugato, MFT
April 20th – 21st, 2018
Join Lou Lasprugato, MFT and Peer-Reviewed ACBS ACT Trainer, for this 2-day event (13 CEUs) designed to integrate a conceptual, experiential, and practical understanding of Acceptance and Commitment Therapy. Click here for more information and registration. Training offered by Praxis.
Location: Courtyard by Marriott, Portland City Center
September 2018
RO-DBT Intensive Portland/Seattle with Thomas Lynch, PhD, FBPsS
September 24th to 28th, 2018
Portland Psychotherapy will be co-hosting the Portland portion of this Radically-Open Dialectical Behavior Therapy intensive training. This intensive training is a two-part fast-track program, consisting of two 5-day workshops. After completing the intensive training, practitioners may choose to progress to advanced level training and supervision. Click here for further information and registration. Training co-hosted by Portland Psychotherapy Clinic. The follow-up 5-day workshop takes place in Seattle, April 8 – 12, 2019.
Location: Portland. More details to come.
OACBS Member News
From Paul Guinther – New Publication!
I recently got an RFT study on derived perspective taking published in Journal of Experimental Analysis of Behavior.
From Brian Goff – A Veritable Feast of Resources (thank you!)
I would like to bring a nonprofit organization to the attention of the OACBS members.  The organization is called Bridge Meadows. Bridge Meadows creates and facilitates multigenerational communities for foster youth, adoptive parents, and elders. The stories of permanency for foster youth and stability for adoptive parents are powerful. For the elders, Bridge Meadows gives these elders purpose and engagement.  I see shared values written all over the DNA of Bridge Meadows.  The executive director, Dr. Derenda Schubert, is a psychologist. The associate director, Renee Moseley, is an LCSW. I am on the Board of Directors. I am regularly bringing ACT principles into our discussions of programming. I think this is a beautiful organization and wanted to share my passion for it.
I think this has been mentioned when I was profiled as an OACBS member a long time ago, but I have a nonprofit clinic — Evergreen Clinical (www.evergreenclinical.org) that is entirely focused on ACT, and we see people between $5 – $20 per session.  Graduate students from George Fox University are the primary therapists and sign up to get experience implementing ACT. I provide the oversight and clinical supervision.  I would love for this to be something people knew about for people who call who either don't have insurance or don't want to use it (e.g., too big a deductible).
I'm sure you know about the app Headspace. I think this is a great app for clients. Good introduction/on-ramp to mindfulness practice.  I also really like Streaks, which is a useful app for establishing and tracking committed action or developing new habits.
Some people may know this, but there is a delightful and fantastic song by Kimya Dawson called The Competition. Great defusion/fusion and acceptance illustrated.
From Hank Robb – Upcoming presentation at OPA
Self-Care as Orientation for Life Action: "I Choose Willingly" or "I Have to Grudgingly" By Hank ROBB, PhD
While self-care might focus on what we do, it can also focus on the way we do it. Addressing life from the stance of "willingly choosing" rather than "grudgingly having to" importantly impacts our wellbeing. While "seeing what to do" isn't the same as doing it, this workshop will provide both didactic and experiential content to help participants sense that willingly choosing is an option even in contexts where action is painful and difficult. Theoretical and experimental work from acceptance-and-change approaches to human functioning as well as Relational Frame Theory, a behaviorally based approach to human language and its functions, provide the foundations for this presentation. Click here for brochure.
New OACBS Members
Welcome to our newest OACBS members. We look forward to your participation in our community!
Ida Moadab
Melodie Radcliffe
Kevin Reilly
Mike Running
Taylor Shank
Sean Dodge
Heather Harris
Amy Joslin
Megan Poole
Steffannie Roache
Christopher Watson