OACBS Projects/Board
Election Results!!
Thank you to all candidates, as well as Board Members involved, for your efforts and willingness to represent the Oregon ACBS chapter.
President-Elect is Alia Zelder, PsyD (formerly Alia Mulder-Rosi), Psychologist at River Fern Wellness, LLC, Adjunct Professor at Portland State University
I am a psychologist in private practice in Tigard, OR. I started studying ACT while in graduate school at The Graduate School of Professional Psychology at the University of Denver. I had the wonderful benefit of growing and learning with fantastic professors and colleagues during graduate school and was well plugged into the ACT community in Denver. While I grew up in Oregon, I returned 4 years ago, after completion of my degree and internship. Since returning, I have become well established in a supportive integrated care and academic community in Washington County and feel that it is high time for me to focus on connecting more with fellow therapists, which is why I want to be actively involved with OACBS. The local trainings that I have attended, many of which were sponsored by Portland Psychotherapy Clinic, were wonderful experiences for me and were sterling reminders that I flourish as a therapist most when in regular consult and community with other ACT therapists.
Member-at-Large is Sarah Verducci, LPC, Private Practice in Ashland Oregon & Counseling/Instruction at Rogue Community College
Bio: I am a psychotherapist living and working in Southern Oregon. I split my time between private practice and also work with a variety of students at Rogue Community College. My eight years since graduate school have been broad, ranging from educational settings to SPMI programs as well as homeless youth. I have found beauty in the flexibility of Acceptance and Commitment Therapy and how I have been able to adapt the framework to every population I have worked with. I first heard of ACT while in graduate school and the more I learned the more obsessed I became. It immediately clicked with my values and world-view. The possibility of serving with OACBS reflects my values of connection and gratitude.
And thank you to the outgoing board members, C. David Maxey, as Past-President, and Tim Wright, as Member-at-Large, for your contributions to the Oregon ACBS Chapter community.
ACBS Updates and Listserv Nuggets
July 24-29, 2018, Montreal, Quebec, Canada,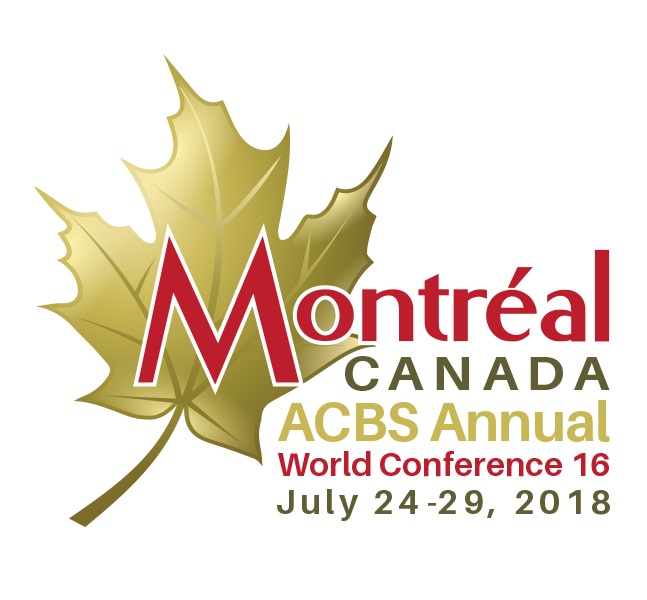 Beyond "Acceptance of Situations"
Hank Robb opened the thread with a post about acceptance, referencing the serenity prayer. This led to an important and inspiring (IMHO) thread discussing gender issues within the ACBS community, with many women in particular sharing their experiences with compassion and courage, offering perspectives often obscured by privilege. As stated by Robyn Walser in a related but separate post, "something is happening… my eternal hope is that it is something good."
Dissociation vs. Observer Self
Original post from Lindsay Harrington, after being asked by a patient, how would you explain the difference between the two experiences? The subsequent thread spanned multiple weeks and led OACBS's Paul Guinther to at one point simply post, "Mind blown!"
Positives Aspects of Avoidance
Stan Malicki posted a summary of Stephan Hofman's article on the nuances of avoidance with a link to the article. An interesting discussion followed.
A Robust Discussion on ACT Matrix
A thread started by Kevin Polk offering a summary of the ACT Matrix. Chris Dowdeswell then responded with a precise analysis and query about the nature of the Away/Toward discrimination task, sparking a robust discussion and an advanced tutorial on the Matrix.
ACT Summer Camp – Southern Sweden!! September 3 – 7, 2018
From Kirk Strosahl: "Tired of the emotional turmoil that results from daily exposure to the boorish tweets of a narcissistic, misogynist leader of the free world? Well, you can get away from it all and come to the sunny shores of Southern Sweden for the First Annual ACT Summer Camp!" Click here to see more.
Steve Hayes and Stefan Hoffman on Process-Based CBT
Steve Hayes posted this link to a vimeo with himself and Stefan Hoffman discussing the movement towards process-based CBT. He refers to their mutual 2017 article in World Psychiatry on process-based care. Then follows an interesting thread as he responds to Patricia Zurita's questions on how clinicians might apply such ideas and developments.
A week or so later, Matt Boone provoked a second thread when posing the question, how to define the term "process", leading to a cool discussion.
Bonus link from Steve Hayes: "Cool interview of our friend and colleague James Coan by fellow CBSer and evolutionist David Sloan Wilson:"
Upcoming Professional Training
The opportunities listed below may be of interest to OACBS members. Please note, these events are not necessarily endorsed by OACBS and the information is simply provided as a convenience to members. If you know of any CBS-related training events in our area that you'd like announced in the next newsletter, please e-mail that information to Member At Large, Tim Wright.
August 2018
ACT Bootcamp for Women: Power through Psychological Flexibility.
San Diego, CA, August 16-19, 2018 / 32 CE Credit Hours Available.
Women have made giant strides in equality and power. Yet, there is much more work to do—and clinicians have a vital role in supporting women. This workshop teaches skills to empower yourself as well as your clients, using proven-effective acceptance and commitment therapy (ACT), to help us access our own innate power for positive and empowered change. Over 4 days, a fleet of all-female speakers, including Robyn Walser, Laura Silberstein, Aisling Curtin, Sue McCurry, and many more, will teach your concrete ways of applying ACT to better understand the landscape of the challenges women face. Register before July 23 to save $50. Enter the discount code WOMENBC50 for an additional $50 discount. Click here to register today.
September 2018
RO-DBT Intensive Portland/Seattle with Thomas Lynch, PhD, FBPsS
September 24th to 28th, 2018
Portland Psychotherapy will be co-hosting the Portland portion of this Radically-Open Dialectical Behavior Therapy intensive training. This intensive training is a two-part fast-track program, consisting of two 5-day workshops. After completing the intensive training, practitioners may choose to progress to advanced level training and supervision. Click here for further information and registration. Training co-hosted by Portland Psychotherapy Clinic. The follow-up 5-day workshop takes place in Seattle, April 8 – 12, 2019.
Location: Portland. More details to come.
OACBS Member News
A Message from Brian Thompson on ACBS World Conference 16
"I'll be presenting some single case design data I collected on a combined ACT and ERP for OCD treatment protocol at a symposium,  Examining the Impact on ACT Processes of ACT and Exposure-Based Treatments for OCD and PTSD . Also, I'll be co-leading a workshop,   The Marriage of ACT and ERP for OCD treatment: how to do it, when to do it, and checking if it works!
Paul Guinther will be involved in a symposium,  Recent theoretical and methodological advances in Relational Frame Theory (RFT)"
ACT Consultation Group in Newberg
We meet from 
4-5:30
 on the first Sunday of the month at First Step Treatment Center in Newberg. 120 N Everest Rd, Newberg, OR 97132. Rod Robbins is the Director of that Clinic. He can be reached at (503) 538-7647. Rod and Joel Gregor (jogregor@georgefox.edu, 503-554-2367) are point people for the group. This is a drop in group so, people do not need to RSVP.
New OACBS Members
Welcome to our newest OACBS members. We look forward to your participation in our community!
Vanessa Casillas
Wilson Eng Kau
Bob Garber
Debrin Goubert
William Hwang
Josh Kaplan
Samantha Kettle
Andjelka Palikucin-Reljin
Jenna Sant-Wing
Cassandra Sieg
Karen Siegel
Cynthia Tremblay
Sarah Campbell
Eula Crippen
Lauren DeNoia
Kari Hays
Celeste Hettman
Geoffrey Scholl
Lesley Smith
Kyle Webster